Kahuzi Biega National Park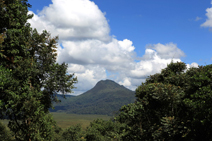 Located in the south eastern province of Congo, almost 50 kilometres west of Bukavu , the Kahuzi-Biega National Park (KBNP) was established to protect 200 - 300 Eastern Lowland (Grauer's) Gorillas, the world's largest gorilla species, occurring mainly in the forests at 2,100 - 2,400 m, but also in the lower rainforest. The 'mosaic' of biotypes makes the park an excellent gorilla habitat.
KBNP remains the only place in the world where visitors can see these gorillas in the wild. The park covers an area of 6,000 km2 and protects a mountain forest in eastern D.R. Congo, which is the most
densely populated region of the country. The park is named after the two spectacular extinct volcanoes which dominate its high altitude sector, Mont Kahuzi (3,308 m) and Mont Biega (2,790 m).
The park was inscribed as a UNESCO World Heritage Site in 1980. Other primates in the park include Eastern Chimpanzees, and numerous Cercopithecinae and Colobinae. Other mammals include elephant, forest hog and many antelope and duiker.
KBNP can easily be reached from Burundi (Bujumbura International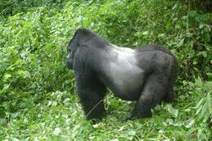 Airport) and from Rwanda (Kanombe International Airport) and by road from Goma in the D.R.Congo.
Accommodation and meals: See Hotels in Bukavu.