Nyiragongo Volcano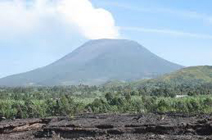 The Nyiragongo Volcano is one of Africa's most active volcanoes and located inside Virunga National Park, in the D.R. Congo, about 20 km north of the town of Goma and Lake Kivu and just west of the border with Rwanda. The main crater is about two km wide and usually contains a lava lake. The crater presently has two distinct cooled lava benches within the crater walls - one at about 3,175 m (10,400 ft) and a lower one at about 2,975 m (9,800 ft). Nyiragongo's lava lake has at times been the most voluminous known lava lake in recent history.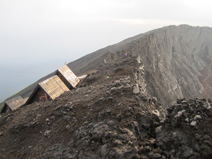 One or two day hikes to the summit of the volcano are truly something you will remember the rest of your life. Starting the hike in Kibati to the summit involves walking trough a lush forest and over lava trails to reach the edge of the wide crater.
The volcano is a technically easy climb from the direction of Goma. A trip to the top should take approx. 6 hours. The erupting volcano becomes overwhelmingly present after dusk, and visitors are able to spend the night on the rim of the crater in a set of small bungalows built by the park authorities (see pictures).
Update: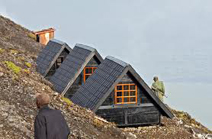 Tourists in eastern Congo are being invited to spend the night by a spectacular eruption at Africa's most active volcano. Mount Nyamulagira, also in Virunga National Park, has been spewing out 200 m high fountains of bright red lava since the beginning of November. It is its biggest eruption in a century. Rivers of lava are flowing north into an uninhabited part of the park, but pose no danger to its critically-endangered mountain gorillas, a statement from the park said.
Rangers have set up a camp in a safe area close to the volcano, where visitors can spend the night.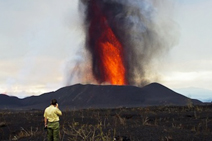 The eruption could last for several days, or even months. An eruption of nearby Mount Nyiragongo in 2002 destroyed most of Goma city and forced 350,000 residents to flee. Volcanologists have so far said the current eruption does not pose any threat to the local population.
See the video of the eruption.